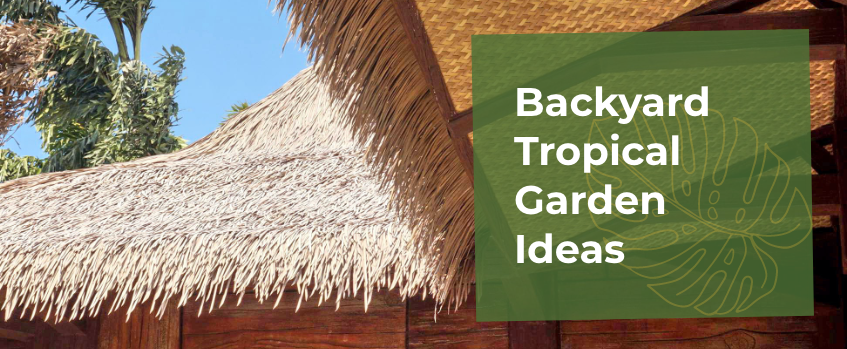 If you're like us and think tropical gardens are more fun and attractive than traditional backyards, you're in the right place. Bringing the sun, fun and bold hues of the tropics into your outdoor space is the perfect way to create a garden that accentuates your home and showcases your vibrant personality and interests.
How to Create a Tropical Garden in Your Own Backyard
Let these tropical garden decoration ideas inspire you as you create the perfect garden for relaxing and entertaining:
1. Plants and Bamboo
It doesn't get much more tropical or beautiful than adorning your outdoor space with a balance of bamboo furniture and fencing and lush tropical plants. Bamboo is natural and attractive, making it ideal for outdoor gathering spaces. You can use it in everything from building structures and furniture to statues or accent pieces.
2. Tropical Plants
Use tropical plant life in your garden with brightly colored flowers and varying textures, heights and scents. Create carefully planned contrasts of color and texture for a stunning effect.
3. Water Features
Lakeside, riverside or pondside gardens have a unique advantage to really capture the spirit of the tropics with a waterside oasis. Use the water to your advantage with moisture-loving plants and relax to the sounds of trickling water and a gentle breeze.
Don't have access to water near your garden? Invest in a small water fountain or birdbath for a similar effect.
4. Tranquil and Tropical Spaces
Create your own tranquil space in your garden with tropical decor and additions like a meditation space, a spot for yoga or stretching and a hammock or swing in your favorite part of the yard. Choose plants with relaxing scents, like jasmine, and opt for decorations and furniture made of natural materials, like bamboo.
5. Outdoor Cooking Areas
Make the most of your garden space and invite your loved ones over to cook and enjoy a tropics-inspired meal on your grill, like fruit kabobs, skewers or smoked meat. Create a comfortable sitting area near the grill that's far enough away from any smoke but close enough to enjoy the tantalizing smells while relaxing outdoors.
6. Tropical Colors
One of the easiest tropical decorations to capitalize on small spaces is color. Even when you don't have the space for extensive decorations, pottery or furniture, there's always a way to introduce new shades to your yard.
Use tropical colors to inspire each part of your garden decorations, from the flowers you choose to plant to the furniture and lighting you accentuate the space with. Popular tropical palettes include bright oranges, deep pinks, dark greens and aqua blues.
7. Culture-Specific Touches
Tropical means something different to everyone. For some, it represents a specific culture or tradition. Pay homage to your family history or favorite travel destination with decor inspired by regions like Peru, Hawaii, Polynesia or Costa Rica.
8. Beach-Inspired Details
Bring your favorite tropical beach destination to life in your own garden with oversized palm plants and thatch accessories. Choose relaxing beachy furniture, like umbrellas and lounge chairs, and get inspired by light, tropical colors, like pale blues and yellows.
9. Fire Pits
A fire pit is a natural gathering space on your patio or in the backyard and fills the area with light and warmth. The fire pit's flames will accentuate your other tropical decorations, like bamboo and colorful plants, and create a cozy environment where you can cook, talk or relax.

Supplies to Make the Most of Your Garden Space
Creating your dream garden space is fun and simple when you have the right supplies, including:
Bamboo: Bamboo poles, slats, rugs, borders, furniture and more bring the tropics to your garden space. Bamboo's natural coloring and versatility make it ideal for decorative outdoor applications.
Furniture: The right outdoor furniture has the power to transform a space and accentuate your garden plants, sculptures and even your home. Choose furniture made from weather-safe materials and fabrics with extra features like shade umbrellas, drink holders or lounge seating.
Lighting: Your garden probably sees plenty of natural light during the day, but you need soft, ambient lighting after dark. Solar lights, bistro-style string lights, colorful lights or small lanterns and candles scattered around the space can brighten the area to show off your flowers and greenery at night. Choose lighting fixtures that are safe in various weather conditions and simple to operate, like solar-powered or plug-in lights.
Pottery: Pottery is a versatile piece of decor because you can use it as a planter or a furniture piece, or it can stand on its own as a decorative patio or garden piece. Pottery comes in all shapes, sizes, colors, finishes, textures and designs, so you should have no trouble finding the perfect piece to complement your tropical landscape.
Pergolas: A pergola is similar to an archway or arbor in that it sits outdoors and frames your garden, lawn or patio and holds decorative pieces, like lights, chimes and fixtures. Compared to other designs, pergolas have a lattice-like open rooftop with airy sides, so you can enjoy the partial shade and attractive style without depriving your plants of the sunlight they need to thrive. A pergola's beams are also the ideal place for hanging plants or crawling vines.
Thatch structures: Go all-in with your tropical theme when you choose a thatch shade structure. Palapa thatch structures or Tiki umbrellas offer a textured and more covered addition to your tropical-inspired backyard.
Best Types of Plants for Your Garden
Infuse your backyard with color and life by using our favorite tropical theme garden plant suggestions:
Flowers: Flowers are beautiful and fragrant, and they attract wildlife, like butterflies, to your outdoor space. Decorate your tropical escape with the vibrancy of calla, canna or toad lilies or the sweet scent of snow-white jasmine. Plumeria is a popular flower choice for tropical gardens because of its bright pink and peach petals.
Trees: Depending on your climate and growing zone, you might consider planting fig or banana trees around your property. These two tree types are commonly associated with tropical settings, and they'll provide the perfect amount of shade for your sitting area.
Greenery: You can't have a tropics-inspired garden without an abundance of lush, bold greenery. Create visual interest with different types of plants and bushes, like agave, ferns or elephant ear, all available in various sizes to complement different parts of your outdoor space.

Shop Tropical Decor at Backyard X-Scapes
Backyard X-Scapes is the nation's leading provider of tropical decor for your home and garden. Whether your idea of a tropical garden means comfortable bamboo furniture and subtle greenery or a colorful, blossoming retreat, we have the furniture, decor and supplies you need to bring your vision to life. Shop today to start creating the escape you deserve!